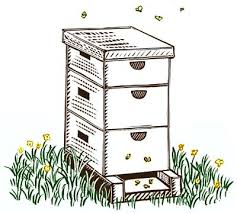 Some Frequently Asked Questions….
I am thinking of taking up beekeeping. How do I start?
We strongly recommend that first time beekeepers gain some experience before taking the plunge.
At Westerham Beekeepers, we offer taster sessions for those thinking of taking up beekeeping. We also run fortnightly training sessions at the Westerham training apiary, which is between Limpsfield Chart and Crockham Hill. It is really useful to learn about handling bees yourself before you take the plunge and get your own bees. We teach different approaches to beekeeping and members can provide advice on what equipment to buy.
But do think about joining us before spending any money on equipment or bees! It could save you time and money. Our membership fees are very reasonable and include third party and bee disease insurance, as well as full membership of the British Beekeepers' Association (BBKA). If you aren't sure, you initially can become a "friend" of Westerham beekeepers, which would allow you to join in our fortnightly training apiary sessions, where you can get personal experience of beekeeping. You can then sign up in full later.
Why should I join the Westerham Beekeepers?
If you join the branch, you will become part of local beekeeping community. We have members across Edenbridge, Oxted, Tatsfield, Westerham and surrounding areas.
The benefits of membership include:
The branch runs a training apiary and organises taster sessions for beginners.
Experienced members will mentor you through your early years.
We organise monthly winter branch meetings, with guest speakers on subjects of education and general interest to beekeepers both new and experienced.
Membership includes bee diseases insurance for up to three colonies – more can be covered for a surcharge.
There are reduced rates for friends of beekeepers (full members at the same address) and for junior members.
Advice on Treatment Free beekeeping
Inexpensive nucs of bees
How much does beekeeping cost?
To start with, you will just need protective equipment such as a beekeeping suit and some kitchen rubber gloves. A basic suit can cost less than £50.
A standard "national beehive" is the most popular type, which can be set up in full for around £200-300. Most beekeepers end up buying a second hive or a small "nucleus" hive to help with swarm management.
Remember that as a beekeeper, you may be able to sell any surplus honey – this could be the first hobby you have that ends up paying for itself in the long run.
I want to find out more about membership….
Full membership includes membership of the British Beekeeper's Association (BBKA) and Bee Disease Insurance (BDI) for up to three colonies. You will also receive subscriptions to both the BBKA News and BeeCraft magazines, either by post or electronically. BBKA membership includes up to £10,000,000 public liability insurance.
Junior members (who have to be under 18 for the full calendar year of their membership) enjoy the same benefits as full membership, but free of charge.
There are various classes of Friend membership, which provides for members who wish to join without having their own bees.
The different membership classes are shown here
Please click here for our membership form
Contact our membership secretary, Peter Cobley for more information by email to p-cobley@tiscali.co.uk

I have a swarm in my garden / property. What should I do?
PLEASE ALSO SEE THE SWARMS SECTION OF OUR WEBSITE
Before contacting us, please be sure that you are dealing with a swarm of bees and not wasps or bumble bees. For wasps you should contact a pest controller and bumble bees should not be moved for conservation reasons.
Bees swarm to reproduce. A thriving colony will swarm any time from mid-Spring to summer: the old queen leaves with up to half of the worker bees to find a new home, leaving behind a newly hatched queen and the rest of the original colony. Beekeepers manage their colonies to avoid swarming, but they cannot always be successful – the bees have minds of their own.
A swarm of honeybees will usually hang from a branch, wall or fence post and from a distance does not appear very active. But as you get closer, you will see the bees going to and from the swarm as they plan their final move to a new home.
Once you are sure you are dealing with a swarm of honeybees, you should leave the bees alone and contact our swarm co-ordinator, Robert Dudgeon on 01732 864486, or the nearest contact from the BBKA website if Robert is not available.
Before you call, it would help if you can gather some relevant information:
What it is that you believe to be a swarm
Its current behaviour (flying, clustered etc.)
Where and on what it has settled
Approximate size and shape of cluster
When it was first noticed
Best estimate of height above ground level
Ease or difficulty of access and precise address/location details.
But it is certainly advisable for you to contact us as soon as you can, so we can help re-house the colony to avoid it settling somewhere that it isn't wanted, such as in the hollow of an outbuilding or in someone's chimney.
You should not be concerned about the swarm, unless you know you have an allergy to bee stings. Despite the initial noise and buzzing, bees that are swarming are very unlikely to sting unless threatened. They are too busy looking after their queen and finding a new home. The best thing is to leave them alone and contact us!